After sales service is an absolute priority at XYZ Machine Tools. Nigel Atherton, Managing Director says, "We have around 25,000 machines in use in the UK and our primary objective is to keep them all cutting metal and earning money for our customers."
The company's engineers have over 300 years of experience between them in XYZ machines so the skills that they bring to customers ensures a first-class service. There are 17 Service Engineers located strategically around the country with the 150 most commonly required spare parts in their vans. At the Burlescombe headquarters there are a further 8 people dedicated to service with specialists dedicated to particular technical areas, such as software and control queries.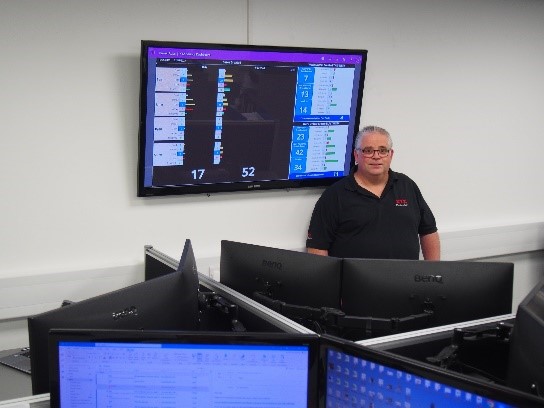 Neil Andrews, Service Team Leader, next to XYZ Service Dashboard Screen
When a call is received, it is logged in the support system, prioritised and directed to the most appropriate engineer. Where a spare part is required by the customer, the serial number identifies the individual machine, and with 90% of parts on the shelf, it will be shipped out for next day delivery. More than half of calls are fixed over the phone, rising to 90% for programming and software queries. To help customers get a rapid solution, there are a whole range of 'How To' documents and videos designed to resolve the most common questions and support issues. Support cases are generally resolved within 24 hours.
Where a visit is required, these are scheduled so that the nearest service engineer can arrive the next day to coincide with the onsite delivery of any extra spare parts that are not stocked in their van.
XYZ Service Team in front of their fully equipped vans
Live tracking of the service vans' locations ensures that warranty breakdowns are normally fixed within 48 hours or less and non-warranty breakdowns within 72 hours maximum. XYZ Machine Tools offers customers the option for extended warranty plans as well as service plans where regular scheduled maintenance is carried out by its service team to ensure trouble free machining.
The company's engineers all undergo continuous training to make sure that they are up to date with new machines and understand new or revised technology. The company is building a knowledge base for them to refer to, so that they can further optimise customer service.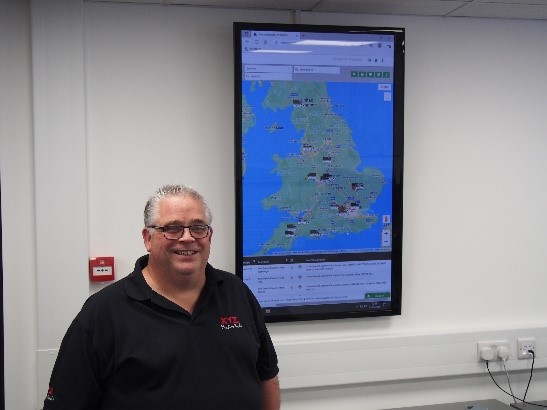 Neil Andrews, Service Team Leader, in front of Live Service Van Tracking Screen
Around the country, XYZ Machine Tools has six showrooms and/or training centres. These are in Burlescombe, Slough, Nuneaton, Huddersfield, Livingston and Sheffield. A further five applications engineers work with the sales team to provide machine demonstrations and training either at one of the centres or on the customer's site.
Nigel Atherton adds, 
"We invest heavily in supporting our customers, continually training our engineers, bringing on new talent and refining how we respond to customer demands. XYZ Machine Tools has built a reputation for first-class service, and we always endeavour to keep our standards as high as possible."