An expert in PLC integration for special purpose machines, Nacom Automation has over 40 years of experience in the industry. It has worked on a huge range of projects from machines which produce bra straps – one every 7 seconds – to hot end glass applications and specialist printing machines designed to work on the most challenging tasks. An example is printing on 18gsm paper which is used to wrap individual pieces of fruit such as oranges.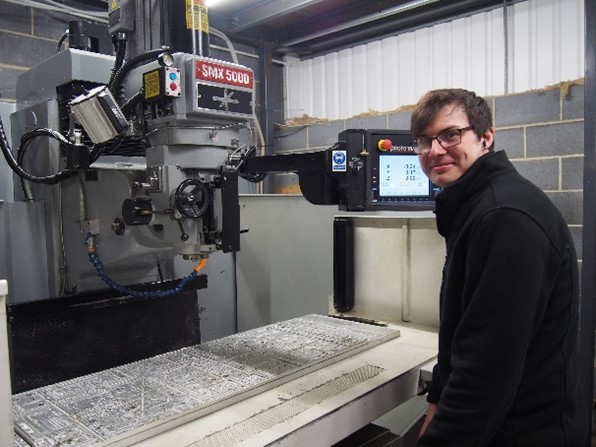 Jordan Hodgkiss operates XYZ SMX 5000 at Nacom
Nick Cadby, Managing Director says,
"Our skill is in problem solving for anything where PLCs are integrated with servos, either advising and helping with the design process or repairing or modifying complex machinery. We get enquiries from a worldwide customer base and applications are extremely varied. Our core product is manufacturing the Flexopress which is a flexographic printer for mass market printing applications such as self-adhesive labels, unsupported paper, tickets, tags, aluminium foil and flexible packaging materials from 25 to 250 microns."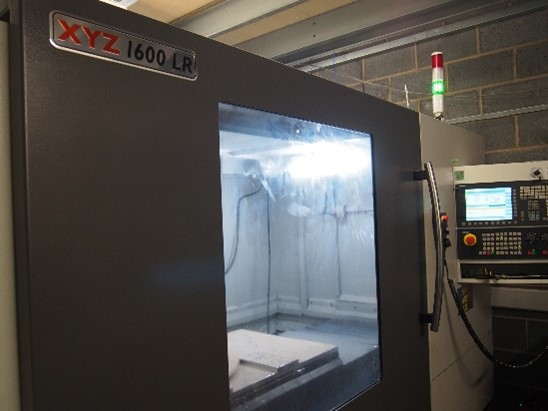 When the company took over manufacturing and supporting the Flexopress, it needed to move manufacture of the machines in house to get better control of the whole process and to meet the tight timescales involved, especially as there are many legacy machines in the field and each new machine has a different specification according to its application.
At the time, Nacom was new to CNC machining and saw an XYZ 2-OP portable vertical milling machine at a friend's factory. The ease of programming of the ProtoTRAK ® control was a major factor in deciding to invest in XYZ machinery, as the company needed to make low batch quantities of a very wide range of parts quickly and easily, installing in its own XYZ 2-OP in 2017.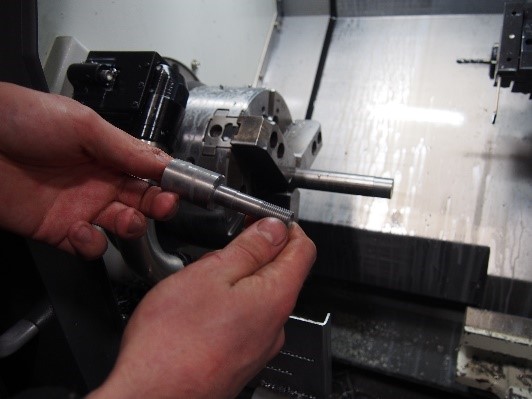 Parts made on XYZ CT65 at Nacom
Now, the company has an XYZ CT65 lathe, an XYZ ProtoTRAK ® LPM vertical machining centre, an XYZ SMX 5000 bed mill and most recently an XYZ 1600 LR vertical machining centre. Nick Cadby says,
"The CT65 has 12 tools and with a puller, turns parts from short lengths of bar about 1m long and up to 65mm diameter, increasing the range of products that can be cut without the need for a bar feed."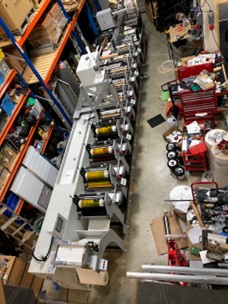 Flexopress under construction at Nacom
The new 1600 LR has a bed size of 1660mm x 660mm and travel of 1600 x 660 x 635mm. Additionally, it has a swarf conveyor and bin, Siemens ShopMILL on the 828D control and a Renishaw probe for tool setting and part inspection. This machine was purchased to make the No.1 side panels on the Flexopress. Nick Cadby adds," The side panels are 1200mm long and we can now machine them in one piece. Previously we had to make them in two parts on the bed mill and the job, which used to take days, can now be done in 2 hours." The machining process involves profile machining the edges as well as drilling, counterboring and tapping operations. Each side panel is fixed to a sacrificial plate and its exact position is found with the Renishaw probe, passing the offsets required to the Siemens 828D control. The company also does in process probing of hole positions, so that the part is fully checked for accuracy before it is removed from the machine.
Nacom built its first Flexopress in 2018. This first machine was 10 colour and 10 m long, weighed around 25 tons, with a printing speed of 120m/min. Since then, Flexopress manufacture is carried out at a second facility, keeping the machining and engineering at its first Chesterfield factory.
"XYZ's key attraction for us was ease of programming with ProtoTRAK ® and then with Siemens ShopMILL. We started off as novices in CNC machining and now we are totally confident in what we do. We have the flexibility to make all our parts in house, machining and reverse engineering components for our wide range of special projects and quickly making the parts we need to build and refurbish Flexopresses. The XYZ Machine Tools training and support took us through each stage of this process. I can highly recommend them as a machine tool partner."